MEET KRIS LAKE (Man Behind the Mic)
Kris Lake is the man behind the mic on the Lake City Morning Show on 107.3 WRSW. In addition to his morning show hosting duties, Kris is the Operations Manager for Lake City Media. In radio since 1996, Kris has done it all– sports, Metro Traffic, oldies, Top 40, Adult Contemporary, Country, News Talk, and of course his current wheelhouse, Classic Hits.
Kris hails from Chicagoland and has worked in several Illinois cities– Sandwich, DeKalb, Ottawa, and Chicago itself. He's also been on air in Grand Rapids, Michigan and Montrose, Colorado before making his way to the Hoosier state. In addition to his numerous Federated Media awards, Kris Lake won Air Talent of the Year in 2012.
He's interviewed a lot of well-known celebrities and dignitaries…among them Tom Hanks, George W. Bush, Ringo Starr, Ben E. King, Barack Obama, Chevy Chase, Jimmy Fallon, Regis Philbin, and Elizabeth Smart just two days after she was found alive after being held captive for 9 months.
He's known for his great morning show topics, always having the latest food news, and his dedication to great causes like the KC Riley Kids Fund. He puts in long hours to make sure Riley Radio Days is successful, and has been instrumental in the increase in funds raised in each year's radiothon.  Kris is happy to have made Warsaw, Indiana his home. He lives here with his wife Danielle and their 'furry kids' (dog Lilo & cats Hunter & Ember).
You can get in touch with him via email at KLake@Kensington.media or at Facebook.com/KrisLakeRadioGuy
MEET NICK DERANEK (News)
Born and raised in South Bend, Nick comes from a short distance away to join the team at News Now Warsaw. Nick previously was the News Director for five years at Studstill Media, an eight-station group located in Peru, Illinois. He was also the host of a morning drive show on WSPL and ran a midday show on Classic Hits 106. He enjoys becoming part of the community and despite living i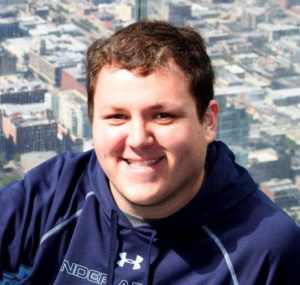 n several large urban areas, including the Chicago suburbs, Nick has come to love the smaller communities he works in.
Outside of the station, Nick keeps his tones fresh as a public address announcer at the University of Notre Dame for the men's and women's soccer team and had the opportunity to be the voice at Notre Dame Stadium when the Liverpool Football Club came to town in July 2019. He is also the voice of Elkhart Memorial High School men's and women's soccer and baseball. He has been an announcer since 2003, when he was a freshman at Mishawaka Marian High School.
Nick was born and raised a Chicago Cubs fan and is also an avid fan of the Boston Bruins. In his free time, he enjoys spending time with friends, playing games, and attends anime conventions several times a year. He also enjoys the outdoors, hiking and is hoping to finally become a SCUBA diver, an ambition that he's had since he snorkeled the Great Barrier Reef in Australia in 2005. He is known as a beer snob, but is always willing to try new things. Suggestions are always welcome!
MEET ROGER GROSSMAN (Sports)
A staple in local sports reporting, Roger Grossman has been the Lake City Media Sports Director for over 20 years. Covering everything from elementary basketball championship games to volleyball and soccer state finals, Roger excels at both play-by-play and color commentary. His on air work in Warsaw began in 1991, and since then he's broadcast more than 2,300 games in 27 years.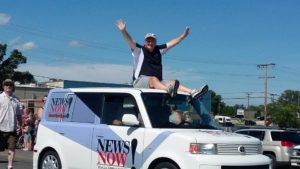 Known as the Radio Voice of Warsaw Tiger Sports, Roger handles all of the Warsaw boys' and girls' basketball and football games. He goes beyond game coverage and provides a more in-depth look into the lives of players and coaches on his Saturday morning program "Tiger Talk", which airs starting the week before football season in August all the way to Memorial Day weekend.
When he's not at games, he's getting the scoop on the latest sports news. Roger gives an update on all of the scores, staffing decisions, and schedules that you care about during his weekday morning and afternoon sportscasts on 107.3 WRSW, Willie 103.5, and News Now Warsaw 1480 AM & 99.7 FM.
Roger is a listener favorite, and even organizes a radio station sponsored bus trip to Wrigley Field each summer. The trip has given people of all ages in Kosciusko County their first in-person Cubs experience. In his personal life, Roger is active with his church and loves spending time with his wife and two children.
You can get in touch with Roger via email at RGrossman@Kensington.media